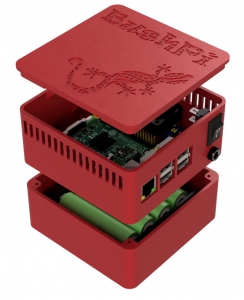 Mobile phones and mobile apps have impacted the lives of countless millions of people worldwide.  In Australia, we aim to use mobile devices to support indigenous knowledge and language. This project seeks to support recording, sharing and teaching by establishing a network of specialised mobile apps. The lack of internet is a major problem.  How do we bring mobile apps to the bush?
The BushPi project is based on a low cost portable server-in-a-box.  Housed within a tough 3D printed enclosure is a compact Raspberry Pi computer, WiFi hotspot, secure data storage and rechargeable batteries. Operating like the portable hotspot feature of mobile phones, BushPi also includes all of the things that usually reside in air conditioned data centres.
Access to remote communities is often by light aircraft with strict weight limits. BushPi and several tablet computers fits into a small backpack while having all the capability of a digital workshop in a bag. We are also exploring the use of BushPi as way to establish a lasting capability within communities by providing continued access to apps and data. In many remote communities, there is some form of internet but it is slow and expensive. We are exploring the use of BushPi to support cooperative work over a wide-area even within the limits of 'bush internet'.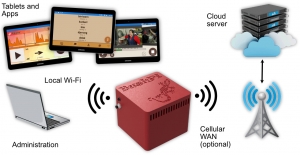 The Language Lab is developing innovative mobile apps to support collaborative language work in Arnhem Land. These apps aren't like the sort of apps in the Android and iPhone app stores because language work is usually best face-to-face. This is a special area of interaction design which includes cross-cultural technology design, participatory design and a good deal of rapid prototyping to see what works and what doesn't.